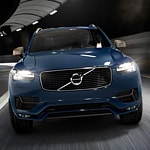 Most people require transportation to fulfill daily responsibilities. If you want to make driving a more enjoyable experience, the popular Volvo XC90 R-Design will help you achieve that goal. This luxury performance SUV has outstanding interior features.
Metal Mesh Aluminum Inlays

The Volvo XC90 R-Design has metal mesh aluminum inlays in the interior that create a unique appearance that's perfect for the sporty design. It's a quality material that's an ideal companion for other features in this model.

Power-Operated Contour Seats

?The power-operated contour seats in the Volvo XC90 R-Design can be adjusted for maximum comfort. You can feel the difference in quality the minute you sit down. These seats are luxurious and relaxing.
Visit Volvo Cars Burlington to test drive a Volvo XC90 R-Design. It's a great way to see how this SUV looks and feels. This is an incredible vehicle that you'll love!